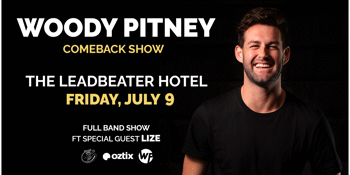 Woody Pitney Comeback Show
Supported by LIZE
The Leadbeater Hotel (Richmond, VIC)
Friday, 9 July 2021 8:00 PM
Almost 18 months in the making, Woody Pitney and his full band return for their first show in the post-pandemic world! 🎉🌟🍻
After dominating the German charts with his his song, 'You Can Stay', Woody has spent the past few years touring across Asia, USA, Europe and Australia, and has recently landed a sync deal with Target USA for his song 'Do You Feel The Same'.
Join Woody as he performs his classic sing-alongs, as well as showing off some new iso tunes in what will be a ridiculously fun night at The Leadbeater.
MORE INFO/LISTEN TO WOODY PITNEY HERE:
https://linktree.com/woodypitney
Supported by the incredibly talented LIZE.