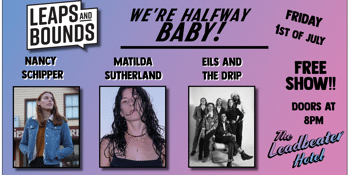 The Leadbeater Hotel & Yarra City Arts present
2022 Halfway Point! | Leaps & Bounds Festival | FREE ENTRY
Matilda Sutherland, Eils & The Drip and Nancie Schipper
The Leadbeater Hotel (Richmond, VIC)
Friday, 1 July 2022 8:00 pm
We're halfway baby! The Leady is leaping into the second half of 2022 with performances from Nancie Schipper, Eils & The Drip and Matilda Sutherland.

Apart of The City of Yarra's - Leaps & Bounds Festival.

DJ's to follow to keep you on your dancing shoes.

Free entry, Friday July 1st ~ 8pm.