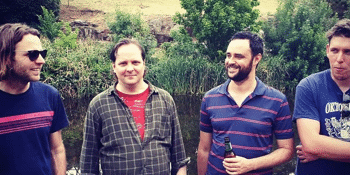 A Man Called Son
The Phosphenes & Mayzie
The Leadbeater Hotel (Richmond, VIC)
Thursday, 7 July 2022 8:00 pm
A Man Called Son (AMCS) is the ongoing project of Simon Pearlman. Conceived in Brisbane (Australia), Simon (guitars/vox/keys and other instruments) initially created AMCS as a home studio project. After a relocation to Melbourne and various lineups over the years, AMCS's current incarnation includes the inimitable Sam James (Guitars/effects), the dapper Thomas Madden (bass) and the zany yet hard hitting James Rance (drums/percussion). Since the pandemic, AMCS have been bunkering down putting the finishing touches to their fourth title. The melancholy, 80s atmosphere of first single 'What We Had' was the first fruits of their labour, and was released in November 2020 to rave reviews. AMCS finally released another single in late 2021. The rocking, organ-led 'Plateau' is about the nostalgic comforts of childhood and the refusal to conform to society's norms.


Catch AMCS @ Leadbeater on Thur July 7, 8 PM.

They will be joined by the melliflous Mayzie and the power-poppy Phosphenes. . A tenner gets you in, but the biggest grin wins.....our undying love, of course.