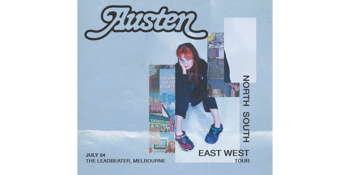 Vita Music Group presents..
Austen - NSEW Tour
The Leadbeater Hotel (Richmond, VIC)
Saturday, 24 July 2021 8:00 PM
From humble beginnings in a Brisbane bedroom, Austen's unique brand of hooky and emotive indie-pop has gone on to hit airwaves and stages around the country, introducing her as one of the most promising rising voices of her kind.
With her mononymous persona serving as a bold alter ego to the self-described introvert, Austen draws inspiration from synth pop, electronica, psychedelia, art pop and indie, and has been praised for her distinctive sound that reaches as much into the vintage of the 60's as it does towards the futuristism of the 3000's.
Born and raised in Dalby, regional QLD, her love of music and art as escapism started early. Music-obsessed from a young age, she watched her parents play together as a duo, absorbing a healthy diet of 60's rock, pop, and classical music. She learnt her way around a violin at age 5, before turning her attention to songwriting and guitar in her early teens. With a DIY approach influenced by her small-town upbringing, the young musician began uploading the first songs she ever finished to the internet - going on to amass millions of streams across her catalogue as an independent artist.
Carving a unique path independently both on stage and in the studio, her striking live show has seen her tour with The Kite String Tangle, AURORA, Col3trane, Nyxen and Love Fame Tragedy, and hit the stage at festivals like Big Pineapple, Valley Fiesta, BIGSOUND and EMC, collecting a dedicated following of fans in the process.
Her debut EP Passenger Seat, named after the road trip in the desert with an ex during which it was written, cemented Austen as an intriguing force in indie pop, garnering support from Triple J and selling out its launch show in her adopted hometown of Brisbane. 2020 sparked a period of lockdown creativity and collaboration, leading to follow-up single 'Worse Things', in collaboration with producer Jono Ma (Jagwar Ma, Flight Facilities): a tongue-in-cheek ode to anxiety that introduced a colourful new side to her sound.
With upcoming singles and a new EP on the way in 2021, the eclectic world of Austen continues to expand.