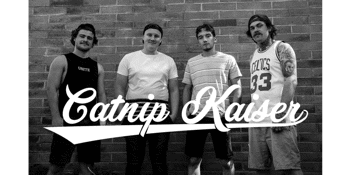 CANCELLED - Catnip Kaiser - Generation Tragedy Tour
A New Way Home, Colour & Shade, Kids In Control
The Leadbeater Hotel (Richmond, VIC)
Saturday, 30 October 2021 7:00 pm
Catnip Kaiser will travel up and down the eastern side of Australia on the Generation Tragedy Tour. The album, of the same name, takes inspiration from bands such as Sum 41, Stand Atlantic, Blink 182, and Green Day! This Albury based band are known for their on stage energy, crushing melodies, and relatable lyrics that will have you sing out loud – and this album boasts all of the above!

With success both regionally and nationally, Catnip Kaiser continue to rise. Their debut EP charted in the top 5 Alternative iTunes charts, and 3 singles all reached #1 on the punk and rock charts on Triple J Unearthed. 'Sunshine' debuted at #4 on the iTunes Alternative charts, and reached a peak of #2 on the Overall Triple J Unearthed charts. Another single release, produced by Dan Brown of the Amity Affliction, 'Pull Me Down' debuted at #6 on the iTunes Alternative Charts, before climbing the Triple J unearthed charts.

Coming to a venue near you, Catnip Kaiser – The Generation Tragedy Tour.