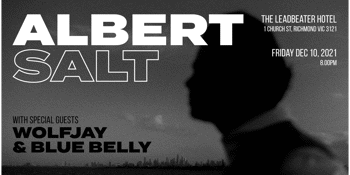 Albert Salt - Live At The Leadbeater!
Wolfjay
The Leadbeater Hotel (Richmond, VIC)
Friday, 10 December 2021 8:00 pm
ALBERT SALT is back and performing live for the first time in FOUR YEARS!
Off the back of releasing his 2020 EP '25 Not Doing Alright' and 2021 singles 'Think It's Time To Get A Job' and 'Family Tree', ALBERT SALT will be gracing the stage of The Leadbeater Hotel on December 10. Along with all of his newest releases, SALT will be dipping back into his catalogue of golden oldies.
Joined by newly formed live band and special guests WOLFJAY & BLUE BELLY! This will be a spectacular celebration that you won't want to miss.
Tickets on sale now. Get them while you can!