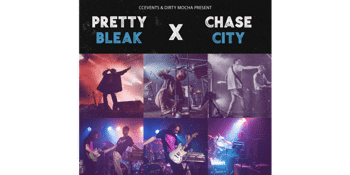 HATCH Management & Dirty Mocha present...
PRETTY BLEAK x Chase City - Formerly Gold Blum + Pretty Bleak
The Leadbeater Hotel (Richmond, VIC)
Saturday, 18 December 2021 8:00 pm
Everything is cooked! That's the recent reminder we've copped from finally travelling to other parts of the country again. What on earth is a hook turn? Why the hell do they call it a schooner? It's these questions that the NSW Central Coast's gold blum & Melbourne's PRETTY BLEAK want to explore in one another's state, whilst playing some brand new, just-released & dance-inducing music for you.

Welcome the EVERYTHING IS COOKED! tour - a double headliner experience in Melbourne & Sydney this May from two of Australia's most exciting emerging rock acts.

Armed with home-printed merch & a DIY-or-die ethos (unless you want to throw them a big bag of money), cousins Kalun Townsend and Jordan Crotty set out to build themselves an outlet to play live, build a community around them & let off some emotional steam.

The vessel for such doings is gold blum, adding two lifelong mates in drummer Bradley Wills & bassist Cameron Mitchell, to create a four piece alternative rock group that sounds like the musical identity of their born-and-bred home of the NSW Central Coast - waves of raw energy through their coastal upbringing, but with the songwriting & production framework demanded of an act that's situated so close to a major city and determined to make an impact on people's emotions.
An ongoing relationship with producer Fletcher Matthews (Dear Seattle, STUMPS, OK Hotel) has brought that vibe to the music, with last single Be Something receiving play from triple j's Good Nights + Home & Hosed shows, as well as being the cover stars of Spotify's Local Noise playlist alongside additions to global playlists Rock Out & New Noise. Fresh off two sold out 2021 headline shows & a sold out main support for The Terry's, the infectious & huge new gold blum single arrives just in time for this tour.

Meanwhile, inspired by The Cure's sound and Tim Burton's visuals, PRETTY BLEAK create a unique mix of shoegaze and emo pop to create their own take on 21st Century pop music.

Under various monikers the band have supported the likes of The Getaway Plan, British India, All We Are (UK), Paper Lions (CA), Columbus and CREO and worked into the records alongside folks like Cry Club's Jonathon Tooke.

PRETTY BLEAK'S debut EP is out now alongside a short film, with theming inspired by Tim Burton introducing viewers to the surreal world that the EP exists within.

Debuting on triple j Unearthed TOPS, the single 'why don't you like me ?' is an upbeat anthem, with soaring synth lines, jagged guitars and a catchy hook. EP track 'blood' also premiering on triple j unearthed, showcases the band's chaotic punk energy intertwining with ambient melodies. Debut single 'Jawline' received airplay on rage, and the video for 'Living With Mice' was added to rotation, as well as featured as rage's 'Wild One.' With praise from tastemakers such as triple j Unearthed, Forte Mag, Beat Mag and a premiere on Clipped TV, PRETTY BLEAK are moving fast on a trajectory of establishing themselves within the Australian Indie music scene.