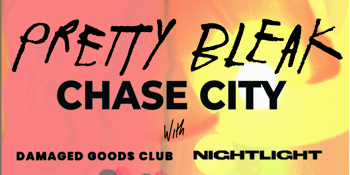 Dirty Mocha presents...
PRETTY BLEAK x Chase City
The Leadbeater Hotel (Richmond, VIC)
Saturday, 18 December 2021 8:00 PM
PRETTY BLEAK create a unique mix of shoegaze and emo pop to create their own take on 21st Century pop music.

Under various monikers the band have supported the likes of The Getaway Plan, British India, All We Are (UK), Paper Lions (CA), Columbus and CREO and worked into the records alongside folks like Cry Club's Jonathon Tooke.

PRETTY BLEAK'S debut EP is out now, with theming inspired by Tim Burton introducing viewers to the surreal world that the EP exists within.

Debuting on triple j Unearthed TOPS, the single 'why don't you like me ?' is an upbeat anthem, with soaring synth lines, jagged guitars and a catchy hook. EP track 'blood' also premiering on triple j unearthed, showcases the band's chaotic punk energy intertwining with ambient melodies. Debut single 'Jawline' received airplay on rage, and the video for 'Living With Mice' was added to rotation, as well as featured as rage's 'Wild One.' With praise from tastemakers such as triple j Unearthed, Forte Mag, Beat Mag and a premiere on Clipped TV, PRETTY BLEAK are moving fast on a trajectory of establishing themselves within the Australian Indie music scene.