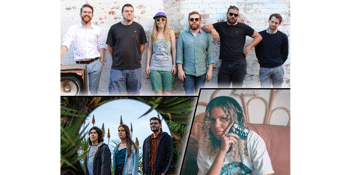 The Huneez
Loose, Loud, and Lively at The Leadbeater!
Maz Green, The Huneez & Better Than The Wizards
The Leadbeater Hotel (Richmond, VIC)
Thursday, 14 July 2022 8:00 pm
The Leadbeater plays host to a triad of indie pop powerhouses!

Join us on Thursday July 14th for a huge night of music featuring soul/jazz/funkmasters Better Than The Wizards, Sydney-based indie trio The Huneez, and local singer-songwriter Maz Green!

Birthed from saxophonist Pete and bassist Daniel, Better Than The Wizards eventually evolved into a 6 piece with a desire to spread energy, share stories and get the dance floor jumping. With a distinctive blend of pop, funk, soul and jazz tied together with Daniel's vocals and the band's harmonies, they create a fun, energetic and powerful live performance. If you haven't seen BTTW yet, you're missing out!

Meanwhile, Sydney trio The Huneez play some of the sweetest beats and juiciest jams around, and they're bringing their high-octane live show to the capital! Combining soulful melodies, funky rhythms, and some pleasantly piquant grooves. Get ready, 'cause The Huneez will have you dusting off your dancing shoes!

Finally, regional Victorian Maz Green is bringing her melodic voice to the city stage, infused with her love of soul music. Maz's sound is peppered with influences such as Olivia Rodrigo, Holly Humberstone, and Phoebe Bridges. Vibrant and full of heart, Maz's indie pop vibes are engrossing, entrancing, and electrifying.

Tickets $15 online, and $20 on the door. Grab your tickets today and get ready to get loose, loud, and lively at The Leadbeater!