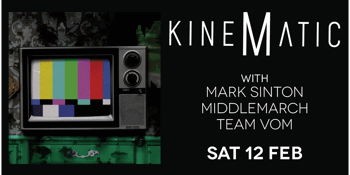 Kinematic
MiddleMarch, Mark Sinton & Team Vom
The Leadbeater Hotel (Richmond, VIC)
Saturday, 12 February 2022 8:00 pm
Kinematic returns to Melbourne's slowly recovering live scene with their first headline show in two years at Melbourne's Leadbeater Hotel.

With a new album about to drop, the show will kick of a massive 2022 for Kinematic while also serving as a posthumous launch of the compilation album they released in 2020, 'No.One Fan'. Befitting a launch of an album curated by their fans, the set will include all their favourites from their close to twenty-year history, from the infectious indie pop of 'Tripitaka-san' to the barfly stomp of 'Speakeasy'.

Joining the boys will be their old mate Mark Sinton (Carbine and The Mansions) also with his first post-lockdown show and playing songs form his forthcoming solo album, 'My Imagination'. Completing the night will be sets from MiddleMarch and Team Vom.

Join us for this triumphant return and a massive night of superlative local music.